With the recent release of Crusader Kings 3 by Paradox Interactive, a new UI paradigm in the game stopped me in my tracks. There are a lot of lessons that web designers can learn from video game user interface design and while they aren't always transferrable, they are worth exploring. In this case it's the idea of having tooltips within tooltips.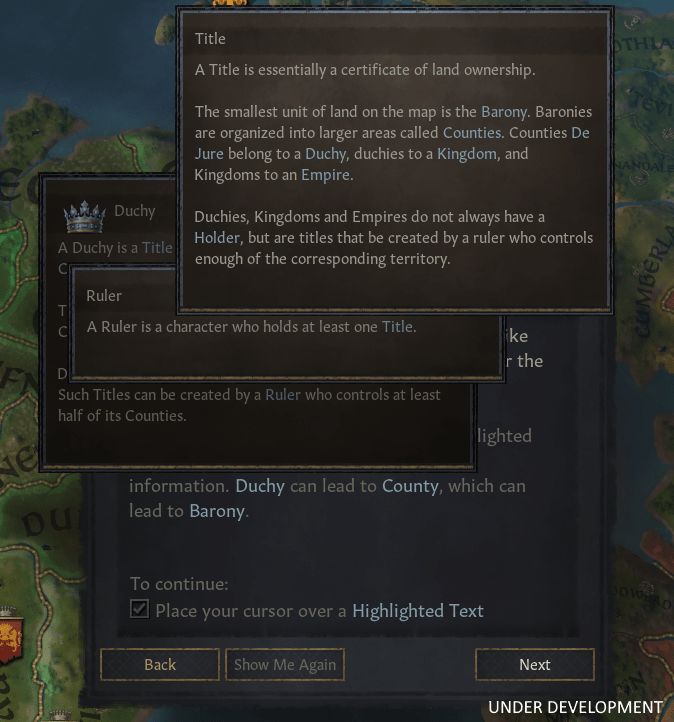 Tooltips within tooltips! Image taken from this dev diary
Tooltips have become a standard component in user interface design. The majority of web UI frameworks include some form of tooltip, with Bootstrap having two types (Tooltips and Popovers). Wikipedia uses tooltips when hovering over links: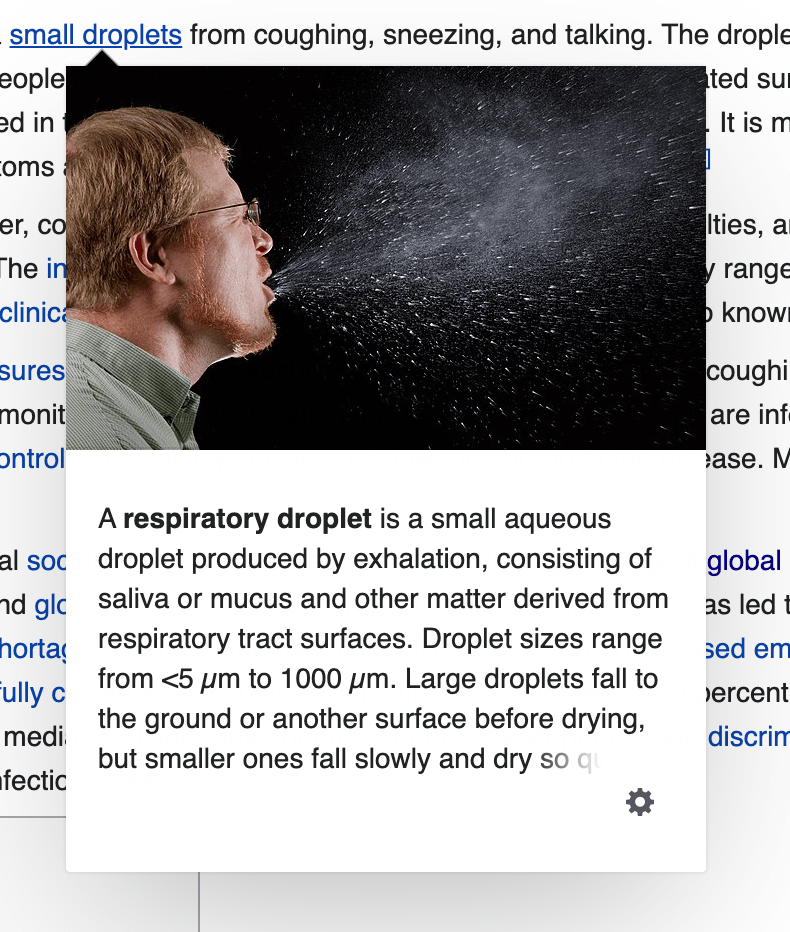 Image taken from this Wikipedia article
What about nested tooltips... on the web?
Hover over "small droplets" to begin (sorry mobile users)
The virus is spread primarily via
from coughing, sneezing, and talking. The droplets are usually not airborne, however those standing in close proximity may inhale them and become infected. People may also become infected by touching a contaminated surface and then touching their face. The transmission may also occur through aerosols that can stay suspended in the air for longer periods of time in enclosed spaces. It is most contagious during the first three days after the onset of symptoms, although spread is possible before symptoms appear, and from people who are asymptomatic.
Images and content taken from Wikipedia
Did you find it intuitive? Could you easily traverse up and down the tooltip chain? Note: this is a HTML/CSS example that I quickly put together so it's rough around the edges.
I found it suprisingly intuitive and easy to use. When you hover to reveal the first tooltip, you keep your cursor nice and still. After that, you locate a piece of information you want to learn more about and you hover over that. It might overlap the first tooltip, but that's fine. You've chosen to seek more information.
Another reason I like this idea, is that it matches how I think. When learning something new, there might be a supporting concept or idea I don't fully grasp. A nested tooltip is a great solution.
In the context of a complex grand strategy game like CK3, having explanatory text is necessary. The designers and developers at Paradox elegantly solved this by implementing tooltips within tooltips. Kudos to them.
Potential issues
Accessibility. Well anything is possible with Javascript right? You could tab through the tooltips to get them working.
User experience. It can be frustrating to move your cursor 1 pixel outside of the bounds of the element which removes the tooltip.
How deep do you go? The designer should use discretion. An infinitely deep tooltip chain doesn't make sense. There might be some sweet number here like, 2 or 3 nested tooltips.
Touch? I'm not sure how mobile works. You could just treat them as tappable elements.
I guess the question is: could the web embrace nested tooltips?
Leave a comment :)